Nancy's thesis is titled: Social Work Policy Analysis of House of Representatives Bill 1153, the Asylum Reform and Border Protection Act of 2015. Her abstract reads:
Unaccompanied Minors from Mexico and the Northern triangle region of Central America have flooded the United States border in increasing numbers since 2009, and totaled nearly 102,000 in fiscal years 2014 and 2015 alone. President Obama called it an "urgent humanitarian crisis" in the summer of 2014. The history that has led up to, and the social, political, and economic conditions surrounding the crisis, are explored through a social work policy analysis of the House of Representatives Bill 1153 termed Asylum Reform and Border Protection Act of 2015 using the Popple and Leighninger model. If passed, it will reform three major immigration laws: the Immigration and Nationality Act of 1965, the Homeland Security Act of 2002, and the William Wilberforce Trafficking Victims Protection Reauthorization Act (TVPRA) of 2008. If compromised by this bill thousands of children waiting for their asylum court dates, often without legal representation, and a potential 75,000 more who could arrive by the end of fiscal year 2017, will be denied protection and sent home to conditions marked by gang violence and poverty in parts of Honduras, Guatemala, and El Salvador. This has already been the fate of Mexican children who face special repatriation agreements established by TVPRA 2008. This author concludes that social workers, teachers, and other helping professionals must advocate for this growing vulnerable population. Their well-being ultimately lies in the hands of U.S. politicians who craft immigration reform and contribute to the all too often xenophobic political climate of today.
Dr. Deborah Phillips, Assistant Professor in the Department of Social Work, served as her thesis chair. Sarah Donovan, MSW, with ASU's College Access Partnership, served as her second reader. Thank you to Deborah and Sarah for helping guide this outstanding effort.
Congratulations, Nancy, and thank you for the meaningful contribution that you have made to this important topic.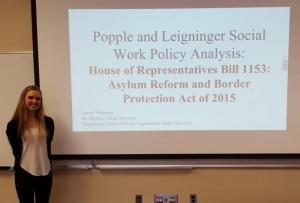 Tags: