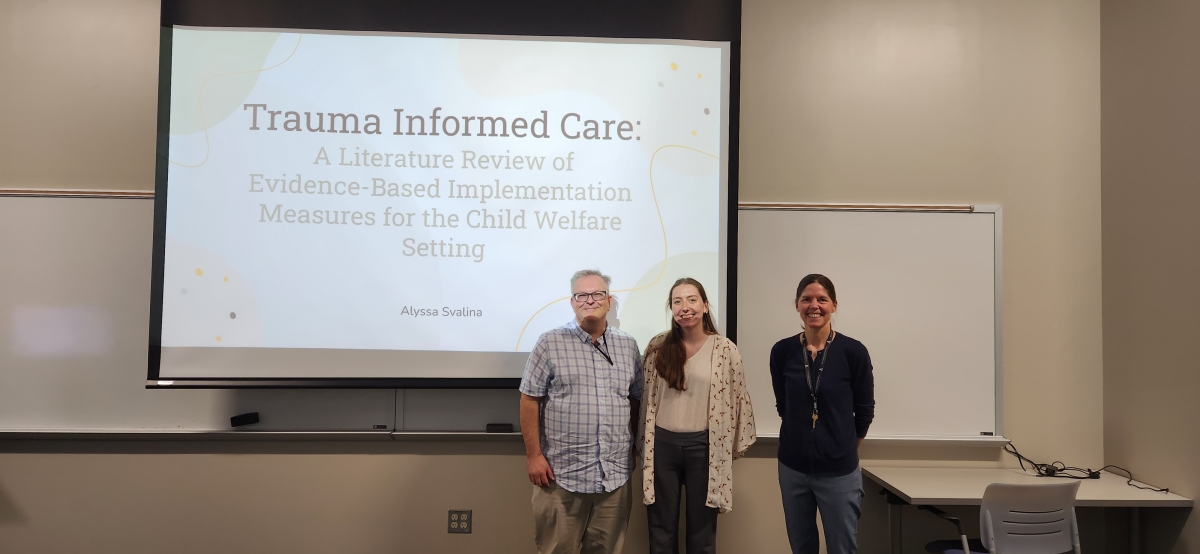 On Monday, May 8, 2023, University and departmental honors student Alyssa Svalina successfully defended her thesis as the culmination of her honors studies. The attached photo shows Alyssa with her thesis chair, Dr. Michael Howell, from our department, and her second reader, Dr. Melinda Bogardus, from nursing.

Alyssa's thesis is titled, Trauma Informed Care: A Literature Review of Evidence-Based Implementation Measures for the Child Welfare Setting

The abstract is as follows:
This thesis presents a literature review analyzing and synthesizing the empirical evidence available for implementing trauma-informed care in the child welfare system. In total, 27 articles were included in this literature review. The importance of trauma-informed care for the child welfare system was evaluated along with the organizational levels of implementation for trauma-informed care. Two state-wide trauma-informed care implementation efforts were included along with the measures that were taken towards implementation and the results. Limitations challenging the implementation of trauma-informed care in the child welfare system were also discussed. Overall, the evidence presented in the literature emphasizes the importance of training in trauma-informed care for child welfare staff, and having staff understand their own experiences with trauma in order to reduce burnout and turnover affecting the performance of the child welfare system. The ideal and most impactful implementation of trauma-informed care is found when implementation occurs in a macro community setting.

Alyssa's thesis addressed an incredibly important topic--childhood trauma--and makes a significant contribution to our field by identifying best practices for trauma-informed care in child welfare settings.