BSW student Aruna Ross successfully defended her thesis as the culmination of her studies as a Departmental and University Honors student.
Aruna's thesis is titled, Social Work Students' Spontaneous Engagement in Arts-Based Activities During the Initial Covid-19 Crisis: A Therapeutic Tool to Cope and Connect
The abstract is as follows: This study sought to understand the emotional and psychological challenges undergraduate social work students faced as a result of the initial Covid-19 pandemic crisis. It also sought to understand if college students used any creative activities to cope with the challenges at hand. An anonymous electronic survey link was emailed to all students in the Social Work Department who were enrolled when classes were moved online in 2020. A total of 38 students responded and from that number, 32 reported that they had spontaneously engaged in some form of creative activity. A thematic analysis of the data revealed two main themes. The first theme was Poor or Worsening Mental Health, and the second was Art as a TherapeuticActivity. Results showed that many participants suffered from worsening depression and anxiety, and experienced increased feelings of isolation. Results also showed that participants turned to creative activities as a form of coping, and found that they provided a positive distraction and in some cases increased a sense of connection. The results of this study indicate that young adults or college students are a vulnerable population, and that the pandemic brought its own unique challenges for them such as an unexpected separation from their critical peer support system in college. It also showed the potential for art and creative activities to be used as a personal and social coping mechanism. Both the fields of Covid-19 research and research on art therapy are relatively new, but this study illustrates a link between the two. The practice implications of this study are discussed and highlight the importance of understanding the wellbeing of college students so that the appropriate services and resources can be provided.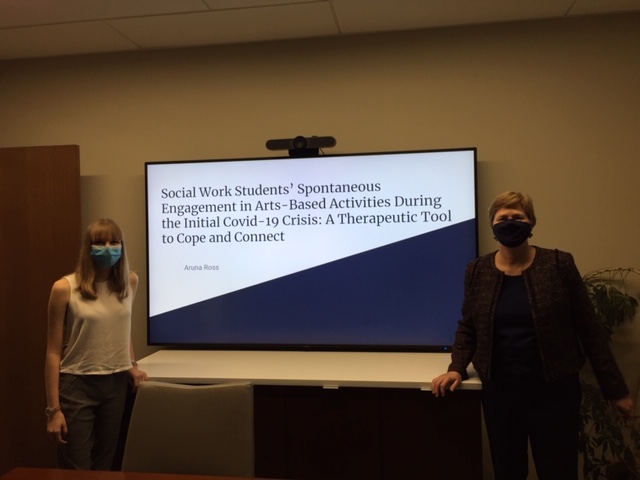 Dr. Kelly Williams served as thesis chair, with Heather Thorp serving as departmental second reader, and Dr. Karen Caldwell (Human Development and Psychological Counseling) serving as outside reader.
Aruna's thesis is so relevant and timely right now, and her study provides really valuable information about students' use of art in coping during this challenging time. So, please join us in congratulating Aruna on this wonderful achievement!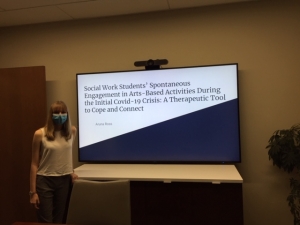 Tags: