The Department of Social Work is pleased to announce that on August 1st, 2016, University and Departmental Honors Student Marit Barber successfully defended her honors thesis as the capstone project for her honors studies. Her thesis is titled Solving the National and Global Issues of Human Trafficking.
Marit's thesis reviewed scholarly literature, the United States criminal justice system, and state, federal, and international policies to examine attitudes, awareness, and prevention efforts related to human trafficking. Gaps in research, policy, and practice efforts related to human trafficking were also identified, with the larger goal of informing improved global prevention efforts in the future.
Dr. Peter Fawson, Assistant Professor in the Department of Social Work, served as her thesis chair. Dr. Cathy Marcum, Associate Professor in the Department of Government and Justice Studies, served as her second reader.
We congratulate Marit for completing an excellent honors thesis, and for honoring our department and profession with her passion and dedication to this important topic.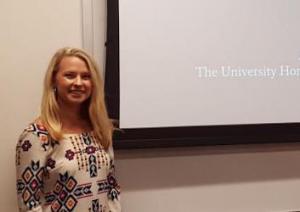 Tags: