On April 6th, 2016, University and Departmental Honors student Rachel Brouwer successfully defended her honors thesis as the capstone project for her honors studies. Her thesis is titled, Self-Care in Cross-Cultural Social Work with Immigrant and Refugees, and her abstract reads:
Social work has consistently recognized the need to deliver client-sensitive services, and building cross-cultural connections between workers and clients has remained a vital part of profession. Additionally, evidence in recent years shows that self-care is a helpful practice that guards against burnout in helping professions. This literature review will examine both cross-cultural practice and self-care in social work; discuss the history, methods, and importance of these topics; and explore the intersection of these two aspects of the profession. This review bridges the gap between cross-cultural practice and self-care, and reveals ways in which the two areas can be connected through increasing interprofessional discourse, emphasizing continued education for social work practitioners and students, exploring empathy, and further developing perspectives such as cultural humility.
Dr. Denise Levy, Associate Professor in the Department of Social Work, served as her thesis chair. Dr. Chris Osmond, Associate Professor in Department of Leadership and Educational Studies, served as her second reader. Thank you to Drs. Levy and Osmond for their mentoring and service.
We send our congratulations to Rachel for her outstanding achievement, and for bringing honor to our department and profession.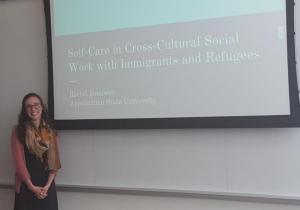 Tags: